Compil Agnès-b. 2008: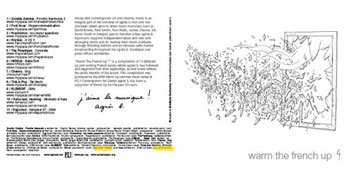 Un projet datant de 2008 en collaboration avec Gilles Leguen
qui est apparu sur la compil Agnès B intitulée"Warm the French up".
the DEPORTED track "inmate#07-2844" is on it.
look for it in the agnès b. network and boutiques or at PS1.
Gilles Leguen - Arnaud Pérennès - mixé et arrangé par Yann Pennamen.  

DEPORTED WILL BE FEATURED ON AGNES B. COMPILATION "WARM THE FRENCH UP!!!".
THE CD WILL BE RELEASED LATE JULY ON THE OCCASION OF NYC's MUSEUM PS1 CLASSIC SATURDAY SUMMER WARM UP PARTIES.
OUR TRACK "INMATE 07-2844" WILL APPEARED AMONG OTHER FRENCH BANDS HANDPICKED BY AGNES, PS1 BENEFACTOR :
PONI HOAX, PENELOPES, THIS IS POP, FRUSTRATION, ZOMBIE ZOMBIE, CHEVEU, FRICTION, KLEMENT, HIFIKLUB.